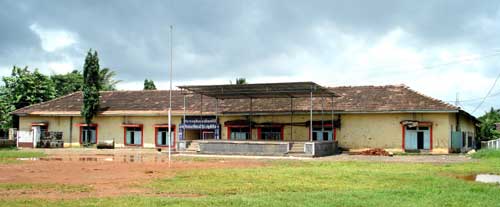 It was in June 1967 that the people in the villages around Wadkhal organized an institution named Samarth Shikshan Mandal, and invited Pen Education Society to run and look after it. The prominent figures that led the way were Shri Laxman Narayan Lawate and Shri. ValiMohammed Dharamsi Pujani.
The school began with two divisions of eighth standard and one of ninth standard. As the school progressed, new class-rooms were added. Later Shri. Morehswar Mokal, 'Sarpanch', Group Gram-Panchyat of Wadkhal helped build a hall for the school.
At present secondary classes from fifth to tenth standard along with junior college classes are held in two sessions in an expanded building. Today the school has a computer laboratory along with the regular paraphernalia.
The school has always encouraged and boosted Kabaddi, and is proud of such very good Kabaddi players as Sanjay Hiraman Mhatre, Pramod Baliram Mhatre and Ashish Ashok Mhatre who represented the school at the national level. Sanjay and Ashish added one more feather when they became part of the Indian team and represented the nation at the international level.
On the academic side, Ms Meena Narayan Patil added yet another feather by standing first in the subject Co-operation in the Higher Secondary School Examination in the Mumbai Board.